Johno's
HOME PAGE
Welcome to My Home Page!
This is the home page of John O'Connell - Johno to most. I intend for this page to be used, primarily, as a resource in my teaching as a Professor of Theatre Arts at Indiana University - Purdue University Ft. Wayne.
Students in our BA program, as well as students in my General Education courses can access my course Syllabi and any up-to-date class notices.
Colleagues wishing to look at my work as a Director can also access this page and take a gander at some photos of my recent work. Anyone interested can also look at my philosophies with regard to teaching acting and directing in a liberal arts environment. I have also included in this page my current curriculum vitae.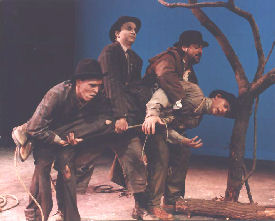 WAITING FOR GODOT

CLASS ANNOUNCEMENTS:
Fall 2007 Office Hours - Mon thru Thurs. 9:00 - 11:00, 3:00-4:00
Fri. 1:00 - 3:00. Or by Appt.
Contact Info
phone: 260-481-6550
email: oconnelj@ipfw.edu



IPFW Department of Theatre